The US mens basketball team crashed out of the World Cup but its a sign that other countries are closing the talent gap
This was a failure by the US mens national basketball team, no question about it. Team USA dont suffer too many defeats, so each one tends to feel like a disaster. To be more specific, Wednesdays 89-78 loss to France in the quarter-finals of the Fiba World Cup was the programs first since 2006 (Thursdays loss to Serbia guaranteed USA its worst placing in a major international tournament). While the France defeat came earlier in the tournament than many had predicted, nobody can claim it was completely unexpected. History, however, tells us that the Americans will be back and stronger than ever. In the meantime, let these results be another example of the health of the sport around the world.
It was obvious heading into China that this particular edition of Team USA was going to have a challenge on its hands. Star after star dropped out on the way towards the main event, leaving the Boston Celtics point guard Kemba Walker as the sole reigning all-NBA player on the roster. The US memorably lost to Australia in a warm-up game and they probably would have dropped their game against Turkey in the tournaments first round were in not for a series of increasingly absurd free-throw misses by their opponents late in the contest.
The 2019 squad wasnt a Dream Team, it wasnt even an All-Star Team. As great as the likes of Khris Middleton and Donovan Mitchell can be, it will be a long time before anybody mistakes them for the likes of LeBron James or Kevin Durant. It didnt help that they were a hastily thrown together collection of near-stars and solid players who didnt really get much time to get to know each other. Lets also admit that Gregg Popovich, who was coaching the national team for the first time in his glittering career, was playing under a different set of rules from those you find in the NBA. Popovich may go down as the best coach in NBA history, but theres still something of a learning curve to be expected here. This was a vulnerable group.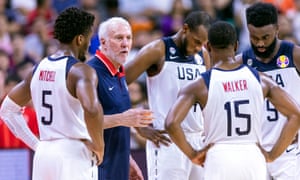 Source: http://www.theguardian.com/us