Civilians flee as airstrikes and artillery hit border region as Trump says about Kurds: They didnt help us in Normandy
Turkish troops have advanced into north-eastern Syria, following airstrikes and artillery barrages aimed at US-backed Kurdish forces who control the region.
The Turkish military confirmed on Wednesday it had launched the land operation into the east of the Euphrates river and later said it had hit 181 militant targets.
Video footage showed civilians fleeing towns with columns of smoke rising in the background and jet trails visible in the sky.
Activists and observers said at least seven civilians had been killed so far. There were also early reports of civilian casualties in border towns hit by shelling. Pictures and video shared on social media showed wrecked buildings and bodies in the rubble.
Turkeys offensive was triggered by a call between Donald Trump and Turkeys president, Recep Tayyip Erdoan, on Sunday, in which, the Turks claim, Trump handed over leadership of the campaign against Isis in Syria to Ankara. The American president announced on Sunday night that US troops would withdraw from the region.
Glnur Aybet, one of the Turkish presidents senior advisers, told CNN: President Trump and President Erdoan have reached an understanding over precisely what this operation is. Aybet added that Trump knows what the scope of this operation is.
Hours after the bombing began, Trump issued a statement mildly criticising the offensive aimed at Kurdish forces, which for nearly five years fought alongside the US against Isis.
The United States does not endorse this attack and has made it clear to Turkey that this operation is a bad idea, the statement said, before noting: There are no American soldiers in the area.
In remarks later, Trump presented the invasion as a historical inevitability, saying Turks and Kurds have been fighting each other for centuries. And he downplayed the US debt to Kurdish fighters, saying: They didnt help us in the second world war, they didnt help us with Normandy but theyre there to help us with their land.
The UN security council is due to convene on Thursday to discuss the offensive at the request of its five current European members, but it is not expected to deliver a strong rebuke to Turkey, given tacit Russian support and US ambivalence.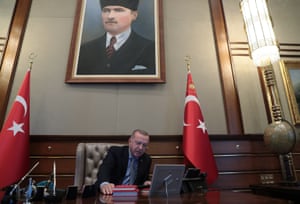 Source: http://www.theguardian.com/us