Locals and police baffled as 2,000 bundles found scattered through County Durham community
From the butchers to the hairdressers and from the playground to the pub, a tiny pit village has been gripped by a baffling mystery.
Detectives in County Durham have revealed that at least 13 meticulously prepared bundles of cash, totalling 26,000, had been left at random places in Blackhall Colliery since 2014.
The latest a wad of 100 20 notes was discovered on Monday morning and was the fourth handed in to police this year.
The mystery has stumped detectives, who have carried out numerous interviews, interrogated the local bank and post office staff and even tested the cash for fingerprints, but the circumstances surrounding the money remain a riddle.
Speaking outside the village pub on Tuesday, hoping to crack the case on his day off work, DC John Forster said: I am hoping this is some sort of purposeful benefactor who is showing some kindness towards the village. I would rather that than someone who is vulnerable in some way or that it was connected to criminality.
Forster praised the honesty of the 13 people who had found the 2,000 bags and handed them in, adding that they had been found in a very tight geographical area in the centre of the village. One lady who handed it in was shaking I dont think she had ever been in a police station before, he said, adding that police had asked those who handed the money in to keep quiet in the hope that detectives would solve the case.
One theory is that the money could be the ill-gotten gains of a local drug dealer, although Forster said that did not tally with his knowledge of criminals being ultra-watchful with money.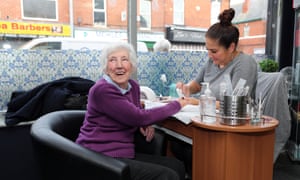 Source: http://www.theguardian.com/us