South Africa are world champions for a third time after Handr Pollard kicked 22 points in a 32-12 win over England, with second-half tries from Makazole Mapimpi and Cheslin Kolbe
In the end it felt as if it was written in the stars. Every 12 years South Africa have an unerring habit of winning World Cups and they have done so again, following up their triumphs of 1995 and 2007 with another prodigious display of power and might. In some ways this was an even more special achievement, certainly for anyone who has ever dreamed of a black Springbok captain lifting the Webb Ellis Cup.
The image of Siya Kolisi hoisting the golden trophy into the clear Japanese night sky is set to become as treasured a picture as that of Nelson Mandela congratulating Francois Pienaar in Johannesburg 24 years ago, transcending such minor details as the scoreline and the sense of English disappointment. There are inspirational stories of hope overcoming colossal odds and then, above all else, there is the tale of Kolisi, the sport-loving boy from the townships of Port Elizabeth who has conquered the world.
On the podium during the presentations Kolisi could be seen trying to persuade his coach and longtime mentor, Rassie Erasmus, to collect the trophy with him. Erasmus has done an extraordinary job of resurrecting a struggling team but there was as much chance of him allowing Kolisi to win that battle as England had of escaping the onrushing South African juggernaut once it started to rumble.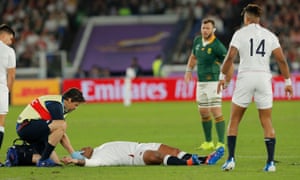 Source: http://www.theguardian.com/us