Manuel Oliver, who lost his son, Joaquin, in the 2018 school shooting, is raising awareness and building on his art activism with Guac: My Son, My Hero
There is a single, powerful moment in Manuel Olivers stage show that captures the purpose of a work he never wanted to write. An alarm clock rings, signalling that 15 minutes have passed since the last life was lost to gun violence in America, and that another person is about to die. He hurls the clock across the set and it explodes into a mass of springs and metal, filling the theatre with a haunting silence.
Olivers anger is directed as much at the grim statistic that 100 people die every day in the US from gunshot wounds as at the death of his own teenage son, Joaquin, in the Parkland high school shooting massacre of 2018.
Turning the loss of his best friend, the 17-year-old he calls Guac, into a compelling one-man stage performance, has been difficult and emotionally draining, Oliver says. But its something he insists Joaquin would have wanted him to do. It is his way of raising awareness of gun violence issues and building on the art activism he and his wife, Patricia, have conducted through painting murals and their not-for-profit advocacy group Change the Ref, since 17 students and staff were killed at Marjory Stoneman Douglas high school.
This play is not for people to feel bad for me or Patricia, he said. Its about feeling sad for themselves or their kids because they could end up being who we are.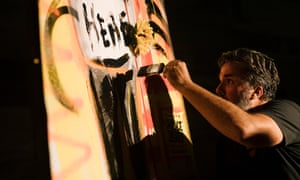 Source: http://www.theguardian.com/us