The new app Lex was born out of Personals, a photo-free Instagram service that emulated traditional newspaper ads
Cach Owens and Cynthia Velsquez reached the same conclusion within days of meeting: they wanted to spend the rest of their lives together.
The pair first started talking on Instagram in January, through a popular account that offered a contemporary version of traditional newspaper personal ads. Owens, a 29-year-old artist and professor, had never had much luck on dating apps, but the Personals page was different. It did not use photos, but instead featured a long list of bios of queer and trans people looking for internet friends, lovers or partners across the globe.
Velsquez and Owens DMs turned into daily phone calls, they got engaged in April, Velsquez moved from Los Angeles to North Carolina to be with Owens in May, and the two are getting married next month, just before the one-year anniversary of their first Instagram chat.
Personals, too, is undergoing a fundamental change. The service, which has posted roughly 10,000 ads since its creation in 2017, ended its Instagram service this week and on Thursday officially launched as an app. Rebranded as Lex, the dating and social app aims to provide an alternative platform to connect people who are lesbian, bisexual, asexual, womxn, trans, genderqueer, intersex, two-spirit and non-binary.
In other words, Lex is not meant for cis men.
With dating apps like Tinder, the queer people are an afterthought. Its not built into their kind of binary system, said Kell Rakowski, the founder of Personals and Lex. This is completely different than what is currently out there and its run by queer people.
The idea for Personals grew out of @h_e_r_s_t_o_r_y, the viral lesbian culture Instagram account through which Rakowski for years shared historic images, memes, photos of queer icons and other dyke imagery. The 40-year-old photo editor in New York City was looking for content for the page in 2017 when she stumbled on archives of On Our Backs, an erotica magazine from the 80s and 90s run by women.
Rakowski was particularly enamored with the vintage personal ads written by lesbians, which outlined their desires and romantic requirements: They were just so funny and also sexy and tantalizing, she said. She began posting them on the Herstory account, and they immediately attracted a lot of interest.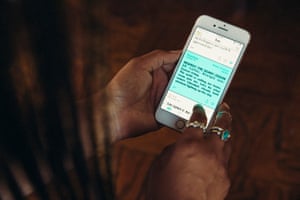 Source: http://www.theguardian.com/us