The apocalyptically bad box office for the sixth Terminator film is looking like the final nail in a particularly rusty coffin
The Terminator franchise is dead.
It might not technically be official yet (studios rarely publicly admit as much, just in case) but after the sixth Terminator film crashed, burned and descended into a vat of lava this past weekend, thumb down, its looking like its finally time to say hasta la vista.
The unfortunately titled Terminator: Dark Fate was supposed to be a franchise-saver, a much-needed burst of life for a series that had been struggling to stay alive since Judgment Day in 1991. The solution was simple: forget the three films that came after (something most people had already done) and create a retcon reunion, following on directly from the still-adored second chapter. Its a strategy that hauled Michael Myers back to life, and profit, last year with the shock success of the gory palette-cleanser Halloween, making $255m worldwide and becoming the biggest slasher film of all time.
Bringing back Arnold Schwarzenegger was less of a get, given that he had stuck around for 2003s Rise of the Machines and 2015s Genisys, but reuniting him with Linda Hamilton was a more sellable sell and the film itself played out like a Force Awakens-style retread, regurgitating a similar formula with plenty of sly winks aimed at long-time fans. It also provided a major return for James Cameron, shapeshifting from director to producer, giving his stamp of approval, one that was bombastically bragged about in the films pricey marketing campaign.
Reviews were decent but early tracking suggested that audience interest was minimal and early pre-apocalyptic panic started to set in. The films budget has been reported as $185m, a staggering amount given the franchises spotty history, and while experts had forecast a weekend of between $30-40m, Dark Fate sputtered out at just $29m in the US. To put that into perspective alongside other action sequels this year, thats less than the openings of John Wick: Chapter 3 Parabellum ($56m), Godzilla: King of the Monsters ($47m), Dark Phoenix ($32m) and even Men in Black: International ($30m). Within the Terminator franchise, its far beneath the openings of Rise of the Machines ($44m) and Salvation ($42m) but slightly up on Genisys ($27m). But what does all this really mean?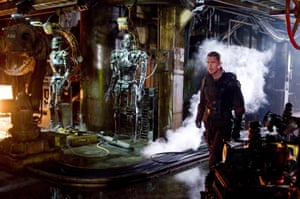 Source: http://www.theguardian.com/us