Authorities seek to reach families of others among 33 dead as investigation into maritime disaster continues
The Santa Barbara Sheriffs Department on Friday released the names of nine victims who died when a diving boat caught fire off of Santa Cruz Island, killing at least 33 people in the deadliest maritime disaster in recent California history. Divers continue to search for one person who is still missing.
The Santa Barbara county sheriff, Bill Brown, said the department would release additional names as authorities reached victims next of kin.
The cause of the fire is still unknown and will be a focus of investigation in the weeks ahead. But details that emerged since 2 September, when the ship caught fire, paint a harrowing picture of fire erupting as passengers slept below deck, trapping them in an inferno. Brown said Friday that early forensic analysis indicated victims had died before suffering burns, suggesting death by smoke inhalation.
Five crew members escaped the blaze and found help from a nearby Good Samaritan ship.
The US coast guard has said the Conception, as the diving boat was named, had passed all recent safety inspections. But in the days since the blaze, inspectors have questioned the safety of the boats layout and practices.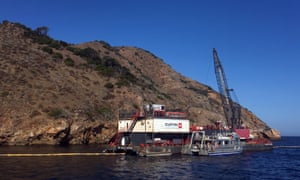 Source: http://www.theguardian.com/us